Procurement Professionals
Accomplish more with fewer resources, harnessing our comprehensive contracting approach to find the best solutions for your specific healthcare service needs.
Benefits
Savings
With our national buying power, we are able to substantially reduce invoice prices, generating an average of 10% savings on high-quality products that can be redirected to delivering better patient outcomes.
Expertise
Our accomplished team of industry experts have the practical, hands-on experience necessary to procure the best products for your healthcare institution.
Resource Efficiencies
We manage the procurement process across a broad range of service areas in order to reduce purchasing complexity for our members. This includes working directly with suppliers on members' behalf to address issues, develop new products or formats, and improve the quality, and supply assurance for medications, supplies and equipment.
Collaboration
We work with subject matter experts from across the industry to deliver the most comprehensive procurement practice for all stakeholders. Members influence every step of our contract award approach—from contract strategy to product evaluation.
Testimonials
Jean Kent
Senior Director of Supply Chain Operations, Nova Scotia Health Authority
HealthPRO brings a lot value to the Province of Nova Scotia. We've put a process in place that mandates we check if HealthPRO has a contract for the item we need before we even think about purchasing it somewhere else. It just makes good sense to take advantage of the savings, and they've already done the work. There's no reason to duplicate efforts.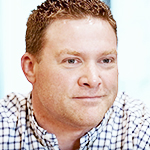 Bryan Trussell
Manager, Clinical Engineering & Central Equipment Management, Lakeridge Health
We're so busy in our day-to-day activities that we don't have the capacity or the buying power within our own organizations, so we rely on HealthPRO to help drive us to where we'll need to be in the next 5–10 years.
Shellyna Moledina
Director of Pharmacy, Markham Stouffville Hospital
Wherever possible, Markham Stouffville Hospital prefers to have products available on HealthPRO contract. Whether you're talking about quality, regulatory compliance or pricing, I know if it's on contract with HealthPRO, all my bases are covered.