Clinical
Bringing together hands-on clinical and procurement expertise to provide the most comprehensive portfolio of high-quality, widely used medical supplies—including gloves, IVs, needles and syringes—as well as more complex devices for specialized healthcare categories.
Benefits
Quality
Our rigorous prequalification process ensures that contracted products meet the highest standards for quality and safety. And only those suppliers that meet predetermined, member-led clinical criteria are awarded contracts.
Expertise
Backed by the member-based Clinical Contract Advisory Committee (CCAC), our staff of registered nurses, procurement and supply chain experts combine clinical and category expertise to deliver the right contract at the right time and place, so you can focus on patient care.
Flexibility
Our multi-supplier award (MSA) process maximizes buying power, while enabling members to make customized decisions based on unique clinical or business requirements.
Buying Power
Offering a range of contracted supplies and devices that's unparalleled in the marketplace today, available to all participating members.
Clinical Engagement
Our member-based national committees—including the Clinical Contract Advisory Committee (CCAC)—ensure best-in-class contracts through national multi-disciplinary engagement. Comprised of clinical end users, materials management professionals and strategic leaders, the CCAC is responsible for providing input into contract strategy, developing clinical criteria and performing hands-on product validations, resulting in contracts that improve patient care and clinical outcomes.
Testimonials
Bonnie Rainey
Clinical Liaison–Contracting, Procurement & Supply Management, Alberta Health Services
I've had to adapt to bring more of the patient advocacy side to procurement, so it's great to be able to come together as a committee through HealthPRO. It gives us a great opportunity to learn from each other and to benchmark to ensure we're following best practices for patients. It gives us a better perspective of the whole process.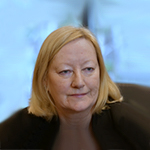 Jill Smith
Clinical Lead, Shared Support Services Southeastern Ontario (3SO)
The opportunity to be part of an initiative like HealthPRO's Clinical Contract Advisory Committee that aims to improve patient care and clinical outcomes is an important undertaking and I'm glad HealthPRO continues to facilitate this collaboration on a national level.
Linda Mueller
Supply Chain Manager, Grey Bruce Health Services
HealthPRO has the ability to pull us all together, run contracts that are valuable to all of us and eliminate that work from our day-to-day lives. HealthPRO can pull it together and create really meaningful contracts, and we benefit greatly from them.
Didn't find what you were looking for?
A number of HealthPRO clinicians and supply chain professionals are available to help.
Connect with us