Clinical Leaders
Deliver better patient outcomes while reducing administrative workload, tapping into proven procurement methodology that's trusted by 1,300 member facilities across Canada to provide staff with high-quality supplies that meet their specific patient care needs.
Benefits
Clinical Involvement
Clinicians, pharmacists and subject matter experts from across our membership provide direct input into our product and service evaluations, clinical criteria, and contract strategies.
Product Quality
Unique to HealthPRO, our prequalification process ensures that only products that meet comprehensive clinical criteria are awarded a contract. And once awarded, we are actively involved in monitoring the quality of contracted products throughout their lifecycle as a means to enhance patient safety over time.
Knowledge-Sharing
Through numerous committees, working groups and task forces, healthcare workers across Canada come together to exchange important knowledge about clinical practice, drug shortages and other issues that impact patient care.
Access to Members Nationwide
Whether it's through participation in our Pharmacy Advisory Council, our Clinical Contract Advisory Committee (CCAC), our National Drug Shortages Subcommittee, or one of several other strategic groups that meet throughout the year, Clinical Leaders have numerous opportunities to interact with, learn from and build connections with other members from across the country.
Testimonials
Jill Smith
Clinical Lead, Shared Support Services Southeastern Ontario (3SO)
The opportunity to be part of an initiative like HealthPRO's Clinical Contract Advisory Committee that aims to improve patient care and clinical outcomes is an important undertaking and I'm glad HealthPRO continues to facilitate this collaboration on a national level.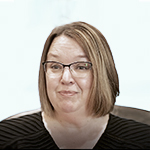 Bonnie Rainey
Clinical Liaison–Contracting, Procurement and Supply Management, Alberta Health Services
I've had to adapt to bring more of the patient advocacy side to procurement, so it's great to be able to come together as a committee through HealthPRO. It gives us a great opportunity to learn from each other and to benchmark to ensure we're following best practices for patients. It gives us a better perspective of the whole process.
Lynne Nakashima
Pharmacy Director, BC Cancer
The Pharmacy Advisory Council meeting is always a great source of insight and information, and I very much appreciate HealthPRO arranging opportunities to engage directly with suppliers on issues that are so important to all of us.