HealthPRO News
December 07, 2020
Adapting and innovating: How HealthPRO's Pharmacy team implemented a virtual product evaluation process
HealthPRO is unwavering in its commitment to patient safety and product quality – especially during COVID-19.
HealthPRO is currently evaluating bids from the PH21 hospital injectables request for proposal (RFP) – a process that always includes a robust product quality assessment.
"An important component in packaging and labelling is the presence of a barcode," said Tracy Gallina, Clinical Director, Pharmacy, HealthPRO. "HealthPRO has advocated for barcodes on the unit of use for all our products for some time. This year, we have also emphasized to our suppliers the need to include the lot number and expiry date in these barcodes to enable tracking and tracing of doses received by patients."




HealthPRO pharmacy staff providing mandatory training for member volunteers which included background information about the evaluation criteria to ensure a fair and objective process
Typically, member pharmacists, pharmacy technicians, nurses, and quality experts from across Canada complete product evaluation at HealthPRO's Mississauga office. But, given the challenges introduced by COVID-19, HealthPRO implemented a virtual product evaluation process for PH21. Using a combination of physical samples in the office and virtual samples that included full images and artwork of each product, HealthPRO staff and members completed 906 evaluations on 453 products.

HealthPRO pharmacy staff evaluated the criteria that required the physical product, and member volunteers completed all other components of the evaluations using the virtual samples. Given that members were at their sites, the virtual format also allowed them to seek out and include feedback from other team members.
HealthPRO member and PH21 product evaluation participant, Sherry Miyashita, Regional Clinical Nurse Specialist, Interior Health said, "It was different than being in-person but had its pluses too. I am detail-oriented so working at my own pace was helpful."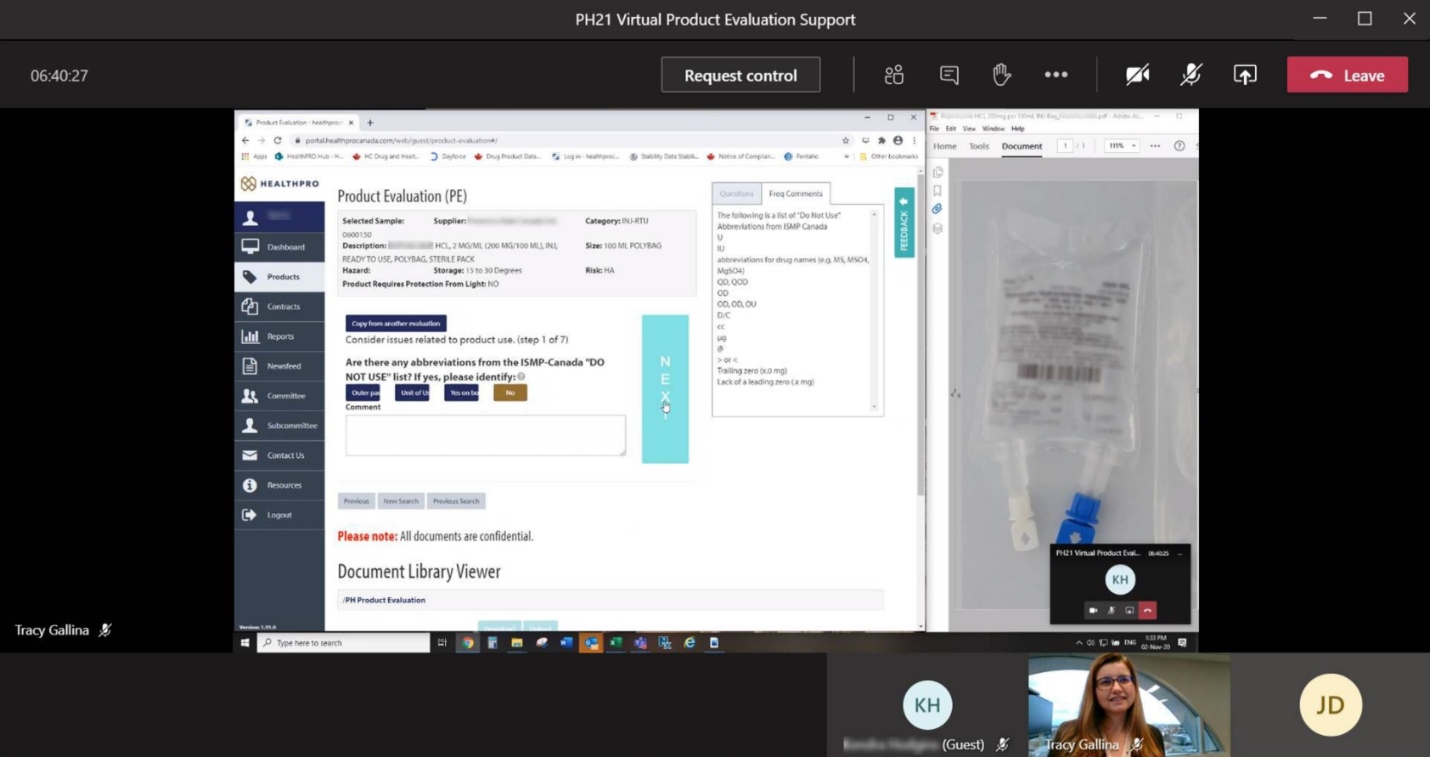 Members completed evaluations on assigned samples from November 2nd to November 6th. HealthPRO Clinical Directors provided support via email or a chat that was available daily from 7 am – 7 pm E.T.

Although change is hard, HealthPRO members stepped up to ensure the virtual PH21 product evaluations were a success.